A mid a brilliant mélange of color, the happy, rhythmic sounds of an exuberant celebration wound through the streets of San Francisco's Mission District during Memorial Day Weekend, as scores of dance and music troops performed in the city's yearly Carnaval Parade for a crowd of more than 250,000 cheering fans.
Costumes, music and choreography from countries throughout Central and South America, from Mexico and several Caribbean nations, plus a few Asian entries, mixed into this joyous and noisy brew, for what has become the largest annual multi-cultural celebration in California.
The Carnaval parade, which was the highlight of the city's 27th annual weekend-long Carnaval celebration, was broadcast by a local television station and covered by an army of news and magazine photographers. Journalists and amateurs alike, pointed their cameras toward the parade route to capture images of the excitement that represented this annual pulsating party. Some images, it should be noted, should be seen only with "parental guidance" advisories.
Other events enjoyed by the revelers during the weekend were - the competition for the Carnaval's king and queen , the street festival with its booths that sold artwork and food, and the annual dance, for those who knew--or thought they knew - how to samba, tango and cha-cha-cha.
All that boisterous activity and fun took place in "The Mission," San Francisco's original and perhaps most diverse district - which is crowded with shops, bungalows and both expensive and dilapidated Victorian mansionettes.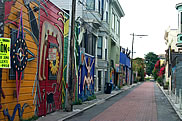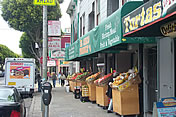 Mission District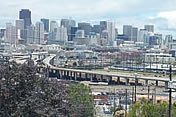 San Francisco Skyline
Residents and visitors can find Mission Dolores in this district - a two-story stucco chapel, which was dedicated in the summer of 1776 by the Spanish missionaries, who founded the city.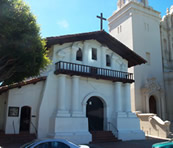 Mission Dolores

Ken French Photos