With its surf-swept beaches, tall palm trees, blue skies, balmy weather and exotic tropical vegetation, San Diego is the gem of the Southern California coast. It was once a lazy Southern California beach resort town, but now it's California's second largest city with a bustling population of nearly 1.3 million residents.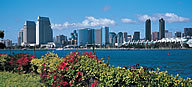 In spite of its growing population, San Diego has not lost its charm. Among its main points of interest are the downtown's historic Gaslamp Quarter, populated with many dining and drinking establishments; Little Italy, an ethnic district that dates back to the 1920's - the place to find good Italian restaurants; Coronado Island - just across the bay from the city via the Coronado bridge, noted for its historic Del Cornado Hotel, which opened in 1888; Balboa Park, known for its varied venue of museums, art galleries, beautiful gardens, its Globe Theatre, and its famous San Diego Zoo.
Seaport Village, on the edge of downtown San Diego, offers a harbor-side tourist paradise with numerous shops and restaurants lining its yacht harbor.
Old Town: sadly, it no longer has the onetime charming Bazaar Del Mundo with its quaint restaurants and shops. Now, it is being redeveloped into much less of an attraction than it once was.
San Diego is also home to the San Diego Chargers, who play at Qualcomm Stadium, located in the heart of San Diego, in Mission Valley.
You'll want to visit Cabrillo National Monument with its picturesque old Point Loma Lighthouse, that guided ships into the San Diego Bay, between 1855 and 1891.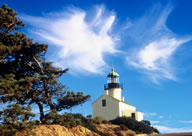 It is located at the southern end of the Point Loma peninsula , which stretches south from Ocean Beach. It was here where Cabrillo and his crew became the first Europeans to land in California. The Point provides great views across San Diego Bay to the downtown skyline and along the coast to Mexico.
The November-to-March winter whale migration can also be viewed from the Point , when scores of gray whales pass along the way to their breeding grounds off Baja California, Mexico.
Also of interest at the Point is a tide pool area, which offers the opportunity to see many interesting plants and animals, such as Wooly Sculpin, a small lurk-and-lunge hunter fish and Periwinkles, small, stocky snails that live high in the inter-tidal regions of the California coast. If you're lucky, you see an octopus slip silently beneath a rock. Be careful though, the interesting rock formations in tide pools are very slippery.
For boating and fishing enthusiasts, palm-lined Shelter Island, surrounded by the San Diego harbor and connected to the northern part of Point Loma by a causeway, is the center of San Diego's year-round sport fishing and yachting industries. Its yacht Basin is home to the San Diego Yacht Club, which gained fame when it won the America Cup.
If you like Polynesian food and exotic drinks, check out Bali Hai, one of the island's popular restaurants.
San Diego's Wild Animal Park takes visitors on an African Safari-like experience. Covering 1,800 acres, the park allows a wide variety of wild animals room to roam freely in natural settings.
Visitors get the opportunity to see many different types of animals, without having to travel to their native habitats in Asia and Africa.
The park nurtures endangered species and in a period spanning close to 30-years, hundreds of nearly-extinct species have been born in the park and dozens of have been re-introduced into the wild.
Sea World which opened in Mission Bay in 1964, is alive with many denizens of the deep showing off in their large glass-walled tanks. Residents include whales, sharks, dolphins and penguins, and of course, the always-entertaining killer whales. However, Sea World is expensive and the lines can be long on weekends and holidays.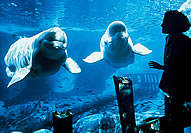 San Diego's Pacific coastline provides year-round outdoor recreation - with surfing, boating, sailing and swimming.
Just north of the city, along the coast, are the towns of La Jolla and Del Mar, where the wealthy retreat to reside in exclusivity.
Located north of San Diego on the Pacific Ocean bluffs of La Jolla is the famous Scripps Institution of Oceanography. Founded in 1903, its large staff pursues marine science research projects worldwide.
San Diego is also known for the highly respected Salk Institute for Biological Studies, established over 40 years ago by Jonas Salk, the developer of the polio vaccine. The Institute conducts biological research in the areas of Molecular Biology and Genetics, Neurosciences and Plant Biology - with a goal to understand and improve human health.
Located on the east side of San Diego Bay, south of the Coronado Bay Bridge, partly in the city of San Diego and partly in National City is the Naval Station, San Diego, which is the home port for the U.S. Pacific Fleet's Naval Surface Force.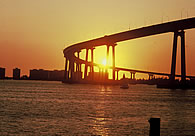 Coronado Bridge
Next door to the south of San Diego is neighboring Mexico, with the nearby coastal towns of Tijuana, Rosarito and Ensenada, bordering the Pacific coastline. Although they provide picturesque getaways, don't expect great food, drinks or cheap prices.
San Diego is known for some of the best beaches in the world, among which are: Mission Beach, Pacific Beach, Ocean Beach, Sunset Cliffs, La Jolla, Coronado, Del Mar, and the North County beaches, which include Encinitas and Carlsbad. Sunny days and mild, year-round weather attracts thousands of sun-worshippers, surfers, body boarders, swimmers, kayakers, and those who just want to sunbath and hangout.
Mission Beach spans nearly two miles of ocean between Mission Bay to the east and Pacific Beach to the north. Its Boardwalk is lined with condos, shops, restaurants and food and drink stands. It offers great people watching, while they Jog, bike, roller blade and stroll up and down the beach front.
Mission Beach also offers the 1920's nostalgia of a unique beachfront rollercoaster, the Big Dipper - in Belmont Park, at the north end of Mission Beach. Built in 1925, this antique 73-foot-tall wooden rollercoaster has been restored and offers a thrilling ride high above Mission Beach.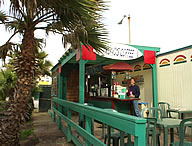 A favorite beach among locals and surfers is Pacific Beach. It is a classic California beach town with a resident mix of surfers, local beach bums, college students, professionals, and families. There's always action on and around the boardwalk and on nearby Mission Boulevard, Grand Avenue and Garnet Avenue - with numerous surf shops, funky clothing stores, craft galleries, coffee shops, bars and dining establishments. Along the boardwalk and neighboring cliffs that overlook the ocean area are a mix of 30s-style beachfront cottages sitting next to large, upscale, earth-toned condos, where locals live.
When the surfs up, the surfers grab their colorful boards and head into waves.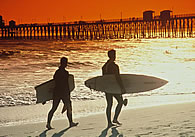 Photos courtesy, San Diego
Convention & Visitor's Bureau