Amazon River Trip

Prelude

Our January 2002 and January 2003 jungle lodge stays in Ecuador were so enjoyable that we were considering a similar trip for January 2004. In fact we even contemplated a return visit to the Sani Lodge, our great jungle destination last year. But while investigating other options, Judi discovered the boat trips offered in Peru by Amazon Tours. www.amazontours.net We were immediately intrigued. The voyage offered access to remote jungle environments, visits to isolated traditional villages, and exotic tropical flora and fauna. We signed on for a January 18, 2004 departure from Iquitos.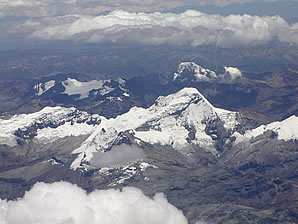 Flying over the Andes
ABOUT PERU
We think of Peru as a small country but it is South America's third largest country (after Brazil and Argentina) and it is more than 3 times the size of California. Peru is also South America's 4th most populous country at 26 million, 8 million of whom live in Lima.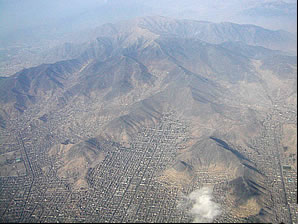 Approaching Lima
It was an abrupt transition from the cool, rarified air of 11,000 ft. high Cusco (where we had spent two days) to the steamy conditions that greeted us at sea level in Iquitos. En route, we got our first look at the principal means of transport in Iquitos, the motocar, three wheeled motor bikes to which are attached ornamental canopied cushioned seats for two. The town is absolutely filled with these practical vehicles. There are very few cars to be seen in Iquitos.

Iquitos

We had been curious about Iquitos for a long while. Situated directly on the Amazon, this large town of 400,000 is cut off from the rest of Peru, as there are no roads that penetrate the surrounding jungle. Thus it is reachable only by plane or boat. Its consequent isolation gives Iquitos an interesting frontier atmosphere. We had a chance to have an initial look around the next morning before boarding our boat. We made our way along the Malacon, a pleasant bricked walkway along the riverfront to the Plaza de Armas, immediately discovering Ari's Burgers, a breezy, fan-cooled friendly café that opens to the outside air on two streets from its corner location. The place seems to be the central meeting point in town and it is easy to see why. It is an enjoyable spot to sip a cool frothy fruit drink and watch the world pass by.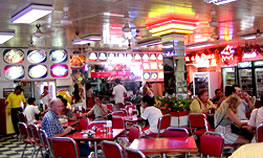 Ari's
It was Sunday morning and the weekly military flag raising ceremony was just getting underway, with small contingents of troops in a variety of uniforms – army, navy, police, and what appeared to be home guard units, supported by a military band. The whole ceremony, which was watched by locals and a smattering of tourists, had a certain humble old-fashioned patriotic charm.

THE M/V RIO AMAZONAS
At noon we boarded the M/V Rio Amazonas, met our two guides, Segundo and Neal (both born and raised in jungle villages), got settled in our comfortable sun deck cabin and headed to the dining room for lunch. As we dined, we watched the town of Iquitos give way to the lush green banks of the Amazon rain forest, dotted occasionally with small, picturesque thatched settlements There were only two other English-speaking passengers on board, a couple from Baltimore, who served as great travel companions for the entire journey. In addition there were seven friendly Peruvians, unfortunately none of whom spoke English.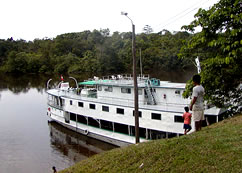 Rio Amazonas
The venerable Rio Amazonas is over 100 years old, having been built in Scotland in the late 1800s. It saw many years of service as a cargo vessel on the Amazon. It underwent a major refitting in 1981 to make it into a passenger ship and further updating in 1994.
The ship can accommodate a maximum of 44 passengers in 21 cabins on 2 upper decks. Each cabin has an air conditioner and bathroom facilities. The main deck has a dining room and an outdoor lounge area flanked by a bar. A motor launch is available for the many daily excursions. The ship is comfortable and utterly unpretentious. Crew members are friendly and task oriented, creating a relaxed atmosphere of competence.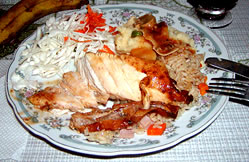 Dinner onboard the Rio Amazonas
VOYAGE ON THE AMAZON RIVER
The Amazon is nearly 4000 miles long and typically a mile or so wide. The water is brown, suggesting a churning waterway, but the river is in fact exceedingly smooth. There were occasional large islands of grass and reeds in the river and a succession of larger and smaller tributaries. We generally stayed close to one of the two banks, presumably to take maximum advantage of the currents. Small fishing craft were always present near the small settlements but only occasionally did we pass larger vessels. Some were cargo ships and some were ferries transporting people considerable distances down the river. Hammocks could be seen on the deck of these boats. Occasionally, a faster, smaller water taxi would pass by on its 8 to 12 hour run between Iquitos and the tri-border of Colombia, Peru, and Brazil, a distance of 375 miles.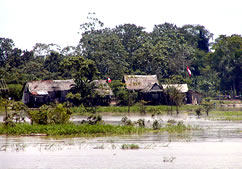 Scene along the Amazon
In the early morning and late afternoon hours, many birds could be seen along the shore and parrots and macaws made their presence known with their distinctive squawking. When near the shore at night, the jungle symphony of frogs and insects could be heard. Except in midday, conditions were very comfortable on the several decks, particularly when positioned to take advantage of the cooling breeze. Mosquitoes and other bugs did not seem to be a problem at all when we were on the water, whether moving or docked. The use of binoculars greatly enhanced the visibility of everything from the bird life and the vegetation to the settlements and the villagers who would watch as we passed by, frequently waving in greeting.
EXCURSIONS
We typically stopped in the river or at the river bank 4 or 5 times a day for excursions, which were quite varied in nature.
Jungle walks: The Amazon Basin is home to the world's largest tropical rainforest and we were right in the heart of it for the entire voyage. We had the opportunity to take several walks of about 2 hours duration through primary and secondary forest, giving us the chance to plunge into this pristine environment.
It is relatively common knowledge that tropical rainforests hold all kinds of treasures, but it is another matter to experience the bounty of the forest for oneself. One is immediately struck by the richness and abundance of life here, ranging from the massive Kapok trees to the tiniest insect. There is a never-ending parade of life – birds, butterflies, the amazing procession of leaf cutter ants, and thousands upon thousands of other life forms, from colorful fungi to large mammals (signs of which are in evidence to the trained eye or ear, but are less frequently spotted). Any small plot of jungle terrain threatens to overwhelm the senses. Superlatives are everywhere. On one walk, we came across pond full of the extraordinary Victoria Regia water lilies, the leaves of which can grow to a diameter of more than 6 feet! It is a pleasure to enter the jungle with a knowledgeable guide as there is so much to learn and appreciate about the patterns of life here. The abundant jungle offers to those who understand and respect it building materials for shelter, medicinal applications, nourishment, and beauty. Of course the jungle also holds many dangers, from stinging ants and biting mosquitoes to snakes (some of which can inject poison when they bite, others – like the giant Anaconda – that can simply scare you to death).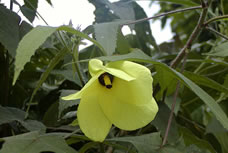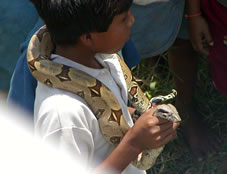 Red Tailed Boa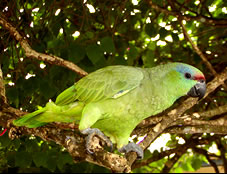 Festive Parrot
Early morning bird watching: The first morning at 6:30 am (before breakfast), we boarded our motor launch for a bird-watching excursion. We headed down a narrow canal with lush vegetation on either side. It was one of the most beautiful places we have ever been, like something out of a fantasy. We then emerged into a remarkable lake that was totally covered by a delicate water plant so dense that you could not see the water. We saw toucans, tanangers, parrots, kites, macaws, dusty-faced parakeets, egrets, kites, kingfishers and numerous other colorful birds.
Piranha fishing: This was great fun. We took the motorboat to a lagoon for this adventure. Segundo had fashioned simple fishing rods for us from bamboo and added lines and hooks. We baited them with bits of meat. The trick is to pull up immediately when you feel a slight tugging at your line. About 90% of the time, the ravenous piranhas manage to gobble the meat and escape but we did catch 4 or 5 that were fried and added to our evening dinner. Tasty too. The first several to be caught caused quite a stir as the inexperienced anglers pulled their conquests out of the water and their sharp teethed trophies swung around the boat narrowly missing their fellow passengers, several of whom nearly fell out of the boat while trying the dodge their snapping assailants.

Piranha
Caiman hunts: Here's the way this worked. We boarded the motorboat one evening at dusk and headed down a smaller waterway while Segundo stood at the front of the boat sweeping a powerful flashlight continually back and forth along the shore. Pretty soon, he spotted the red eyes of a caiman and conveyed guidance instructions to Ulderico, our boatman, with movements of the flashlight. As we headed into the reeds, Segundo lay supine at the front of the boat. Next thing we knew, we heard splashing sounds and up came Segundo holding a juvenile caiman about 3 feet long. Segundo looked quite pleased. The caiman did not. After giving those interested a chance to hold it, the caiman was placed back in the water, no doubt with a scary story to tell his jagged toothed friends.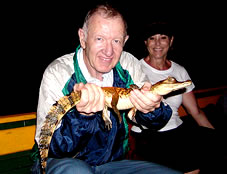 Larry holds a White Spectacled Caiman
A little later, having spotted the red eyes of an owl sitting on a dead tree trunk at the water's edge, Ulderico headed the boat in that direction and Segundo actually captured it with his bare hands. After some indignant protesting by the owl while the amazed photographers snapped a few pictures, the owl (a common potoo) was set free to relate his adventure to his fellow night hunters.
Further note on nighttime small boat excursions: In each of the two instances when we were in a tributary after dark we stopped for a few minutes to listen to the jungle symphony created by the frogs, geckos, and insects and a few night-calling birds. It's just a remarkable experience, especially when you add in the brightly blinking jumbo fireflies and the blaze of stars overhead in the pitch black sky – and a curious dolphin occasionally splashing nearby. And to top it off, Amazon glow worms were clearly visible in the vegetation in the water near the banks,
Village visits: We visited several villages where we were welcomed with traditional dances. There was usually an opportunity to purchase jewelry or other artifacts made by the villagers. In several instances, the natives were interested in bartering, i.e., in trading jewelry and other handicrafts for items that we had brought along such as packaged cookies, candy, mini-flashlights, baseball caps, and t-shirts.
Tri-border excursion: On the morning of our fourth day out, we arrived at Peru's border with Colombia and Brazil. Visitors were free to explore the adjacent towns of Leticia in Colombia and Tabatinga in Brazil. There is a small monument marking the border where you can stand with one foot in Colombia and the other in Brazil.
A sugar cane still: Our first village stop on the afternoon of our first day was at Yanamono, the home of Neal, one of our guides. Neal's father raises sugar cane and is the owner of a (legal) still that has been in his family for 3 generations. The sugar cane grinder is a metal machine manufactured in England more than 100 years ago. The grinder is powered by a circling horse. We were invited to his father's home and bar and given an opportunity to sample each of the 4 varieties of rum distilled there. They ranged from strong to stronger! A tasty molasses is also produced.
The home and studio of Francisco Grippa: This was an unexpectedly interesting stop. We docked at Pevas, one of the larger towns along this stretch of the Amazon at about 2500 population. Perched on a hill above the town is the dramatic home and studio of Francisco Grippa, a Peruvian born artist. Grippa paints impressionistic-like subjects directly inspired by the environment of the Amazon Basin: birds, armadillos, orchids, and pink dolphins, to name a few. It is easy to see why he chose to move back to the Amazon. All he needs to do for inspiration is step out of his studio and take in the panorama below.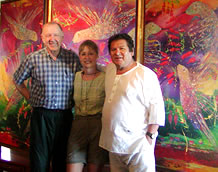 Francisco Grippa
The urbane Grippa, who trained in Paris, London and New York makes visitors feel very much at home. He invites guests to be seated at a long table and serves beer, wine, or other beverages and chats. Afterwards, guests to encouraged to amble around his airy gallery and studio and enjoy the vistas. Speaking of vistas, sunsets on the Amazon can be spectacular and we were lucky to be treated to several exceptional displays during our voyage.
MEALS
Meals were served buffet style and the food was very good. Breakfast usually consisted of fresh juice, some type of eggs, fried bananas or potatoes and fresh fruit. One day we had delicious French toast. Lunch and dinner were generally salad, fried yucca, bananas or plantains, rice, beef, chicken or fish in a tasty sauce, and fruit for dessert. One of the most delicious dishes was fresh heart of palm salad with avocado. Tree ripened fresh papaya and mangoes were other favorites.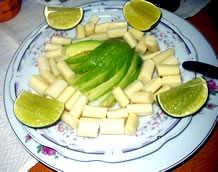 Heart of Palm Salad


WEATHER
There was a thermometer next to the bar. The highs occurred between about noon and 3 pm and ranged between 88º and 90º. Lows dropped to about 77º. The temperatures on the land were a few degrees higher but we were only occasionally uncomfortable on our excursions.
BUGS
The first thing most of our friends ask us when we have returned from jungle excursions is: "What about the bugs?" The answer: We really didn't see any except for a few mosquitoes and assorted ants, etc. in the jungle. Oh yes, and two brown beetle-like bugs in our cabin one day. We did get some chigger bites on this trip as on our previous jungle excursions. They itch like crazy for several days but this just seems to be part of the price of admission.
ANIMALS
By far the most prevalent and visible animals of interest are birds. We had one outstanding early morning bird watching boat ride on the Ampiyacu River (described above). On other occasions we saw yellow-tailed weavers, owls, bats, hoatzin, oropendolas,and woodpeckers among others. On our small boat trips, we also saw grey bottle nosed and pink river dolphins. On jungle walks we spotted a large tree sloth and a green tree iguana. On a number of occasions, when we went ashore we were met by children with various "pets" that they allowed us to hold. These included a red-tailed boa constrictor, a baby sloth (very cute), and a baby tamarin monkey.

Indiana Larry with an Anaconda
RETURN TO IQUITOS
Iquitos, like Manaus in Brazil, owes its growth to the rubber boom that followed the industrial revolution and the invention of the automobile. In the late 1800s and early 1900s, surging demand for rubber led to dramatic growth in these towns, largely in Colonial style, embellished with elaborate ironwork and decorative tile. The legacy of this period still defines the town's architecture. While for the visitor, the town is now principally just a starting point for jungle excursions, guidebooks take a kindly view, one noting that the town grows on you. It is a very clean, laid back town with no fast food franchises or other multi-national chains. Imagine that! At one edge of the downtown is the Belen market, featuring extensive collections of jungle products, ranging from exotic varieties of fruit to natural medicines and potions. Spilling out to the river beyond the market is an extensive water-based shantytown and market, home to several thousand people living in shacks constructed on rafts that float on the river during the rainy season and sit in the mud at other times.