Sometimes life is actually like a romance novel. You read that. You laugh, but I swear it's true when one morning you wake up and find yourself rambling down a highway with a handsome Argentine man weaving your way through the towering, ruby-colored sandstone cliffs of Cafayate, Argentina. The road turns dramatically, revealing sweeping, green valleys, glimmering rivers that wink at the setting sun. Your hand still tingles from the last time he hoisted you effortlessly up on the steep and gravelly trail with a little grin that tucked his wad of coca leaves neatly into his cheek. Forget the fact that there are 20 other tourists with you and you hardly speak Spanish, the wine tour is tomorrow and you pause, thinking somewhat wistfully, that perhaps it's true what they say about el amor being the international language. The mind spins off into tango fantasies you acquired in Buenos Aires… Then a tourist in your caravan cranks his neck out the window and howls at the moon, and it dawns on you that this Argentine guacho ("cowboy" for us) is probably spinning an entirely different narrative. Behind his deep and mysterious eyes, he is (perhaps) taking notes on the silly gringo tourists. Notes he will share over a glass of beer with a close-knit clan of locals who know his tourist tribulation well.

Some places are intoxicating. This is one of them. Founded on a mission site in 1840 by Manuel Fernando de Aramburu, Cafayate and its surrounding valley has been inhabited for much longer. Both the Incas and earlier groups established settlements here. The nearby ruins of a fortress, mark their passage and hint at their struggle. And though the town's present quiet, antique façade may give one the impression of a sleepy pueblo, Cafayate is, in fact, moving swiftly into the future.

Though it's easy to see why the landscape would inspire plenty of ecotourism, most travelers give this small town of 12,000 a place on their itinerary for another reason. Nestled into cactus-speckled hillsides of the Valles Calchaquíes, lives thousands of acres of the torrontés grape, a grape known for its floral aromas that produces a distinct white wine that's servable with everything from chicken to Thai food. It's grown only here, a native of the dry climate and mild weather of the region. And though you may not associate Argentina, in general, with good wine, a recent surge in production and finer attention to cultivation is winning the major awards on the global market.

Events:

Today, the town not only inspires a few Louis Lamoure flavored daydreams, swimming in a glass of sparkling torrontés, it also plays host to two major cultural festivals in Argentina. Winning Cafayate the unique title of Argentina's cradle of folklore, the Serenade to Cafayate, takes place each February and is regarded as the country's most important folklore festival. Since its inception in 1974, the festival has grown into a major cultural event for the country, and continues to feature performances by many of the most important Argentinean musicians. The second big event is named for the torrontés grape, and as you might imagine celebrates its distinction. The Torrontés Wine Festival takes place each November, and it features artists, writers, folk musicians, and-of course-wine tastings.

Getting There:

Argentina has a fantastic bus system. One can lay out in large, reclining seats, enjoy a glass of soda and watch a movie as the bus rambles through Argentina's varied northern landscape. The trek from Buenos Aires to Tucuman takes nearly 20 hours, so an overnight bus is recommended, and if you book your ticket on Flecha Bus, you will be served plenty of modest faire to help satiate your appetite over the long journey. Tickets cost a mere $45, and the scenery is well worth the small expenditure.

The three-hour journey from Tucuman to Cafayate winds along Argentina's 157 through the dry Andean foothills, freckled with cactus, passing through Valle de Tafi, Amaicha del Valle, and finally the Colalao del Valle. Receiving a yearly average of 250mm of precipitation, the dry conditions and mild weather make Cafayate hospitable year round.

Though Cafayate's festivals certainly appeal to the traveler with a fine pallet for wine, culture and music, Cafayate is a worthy destination year round. For one thing, most wine-cellars in the area host free guided tours—a perfect finish for a day of sightseeing in the Valley of the Río las Conchas (Quebrada de Cafayate). Towering canyons, glistening green valleys (and if you're lucky) a handsome gaucho await the eager along the paved, 183-kilometres-long National Route 68 that goes from Salta to Cafayate.

It's also possible to head north to Salta, the capital of the province, and trek south back to Cafayate. Be warned: in Salta there will be dozens of tourism companies waving brochures boasting private guided tours in fully equipped jeeps. And though this option may seem like a luxurious expedition worthy of an Indiana Jones leather hat, the tours from the capital city may be 3 times more expensive than in Cafayate.

Besides exploring the vast canyons of the region and its cellars, my biggest find was—no, not the Argentine cowboy—but the hostel where he worked, El Balcon. El Balcon is a clean, inexpensive, family-run facility in Cafayate that offers comfort as well as many affordable tours. A guided trek into the surrounding valley costs a mere $12 (US)—a wine tour, $4 (US).

Want to enjoy a taste of Cafayate at home?
Try these:
2006 Zolo torrontes. $14.99
2006 Crios de Susana Balbo torrontes. $14.99
2004 Michel Torino Don David Reserve torrontes. $16.99
2005 Pannotia Vineyards torrontes. $12.99
2005 Rutini Trumpeter torrontes. $9.99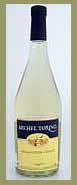 -