Once a part of the super continent Gondwanaland, Australia is now a super continent of the 21st century kind. The land 'down under' showcases breathtaking natural landscapes billions of years old and sprawling cities fraught with culture and glamour. And its engaging wildlife will capture your heart. I could wait no longer to experience its dateless ambience and modern day charm.
On a late Friday night the 747 ascends toward the dark sky, and the luminosity of the City of Angels slowly fades. My fear of flying over nothing but ocean is overshadowed by thoughts of what this unfamiliar continent has in store for me.
At 9:30 Sunday morning the jetliner touches down in Melbourne, the largest metropolis in the state of Victoria. There's no time to rest. I hop in the rental car and make the 100-mile jaunt to the state's premiere natural attraction—the Great Ocean Road.
The road is a 150-mile route that skirts the azure Southern Ocean and winds through lush eucalyptus forests and unhurried coastal towns. Only hours after leaving the hustle and bustle of Melbourne behind, I am walking through a misty rain forest. Festooned with ferns and evergreen trees, the forest is alive with colorful birds flittering about and engaging in necessary avian activities. This forest still holds its primeval mystique.
I continue on the winding road through eucalypt forests and then veer left onto a narrow side road. A few miles along I hear a deep, resonating bellow, and immediately I know it's the signature sound of a male koala announcing his territory. I spot him in a nearby tree, and then I see another, and another, and then females with babies come into view; all within 20 feet of the road. Now this is Australia! I watch intently as a baby koala frolics on the tree branches, while its mother keeps a sharp eye out. The small ball of gray fluff grasps thin branches and practices his climbing skills. About an hour later, mother and baby find a cozy fork in a tree and settle down for a nap. It truly is the picture of contentment.
At the north end of the Great Ocean Road is a most spectacular sight. Known as The Twelve Apostles, a series of sandstone monoliths stand majestically in the shallows of the Southern Ocean, punctuated by yellow-orange cliffs dropping straight down to meet the golden sand. I am in awe of this powerful scene, and for a moment I forget that I have limited time and I need to take pictures. Hours seem like minutes, and days like hours, and my four days here are up so I must drive back to Melbourne.
The next morning I'm at 35,000 feet, on my way to Perth. Perth is Western Australia's largest city, and one of the world's most remote big cities. I long to dip my toes in the Indian Ocean, but that has to wait. I pick up my rental car and head toward the world renowned Margaret River wine region. On the way, I explore lovely bays and miles of coastline. I spot a large mob of gray kangaroos in a grassy field. I watch a baby no more than 18 inches tall hop and bounce around. He soon tires and then climbs into mom's pouch. I drive through the wine region and continue south into the Boranup Forest, a large swath of forest that harbors the statuesque karri tree. Sadly, the majestic karri's knot-free bark is highly prized by the home building industry and furniture makers. I walk into this calm and peaceful forest and enjoy the short time I have here. Its tranquility is invigorating. I end this 5-day journey at the southwest tip of Western Australia, where I finally touch the 75-degree, blue-green Indian Ocean. And then it's time to drive back to Perth and fly to Melbourne.
If an Australian adventure is what you fancy, keep this in mind: Don't try to see the entire country in one visit. Not gonna happen! Australia is immense and the distances between major cities are great. A better strategy is to choose one or two regions in two or three states, ensuring a more complete experience in each destination. If you drive, the first couple of days require some concentration to stay on the left side of the road, because that urge to merge onto the right side will creep up on you. As far as the urge to merge right sneaking up on me… well, I'll just say that I was honked at once or twice. Oops!
You'll hear some interesting lingo, like the always entertaining "no worries." And avoid asking, "Where's a gas station?" You are likely to be directed to a sporting goods store for lantern or portable cooking fuel. Instead, ask, "Where's a petrol station?" If you find yourself in the land down under, follow these tips and you're sure to have a more pleasurable journey. G'day mate!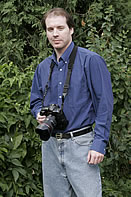 Photo Journalist
Eric Plante
Eric is an avid nature and travel photographer with a passion to see the world. His work has appeared in Califonia Tour & Travel Magazine and Wildlife Journal Magazine.

More of Eric's images
may be seen at:

www.photographerinthewild.com