The year was 1969, when a group of University of Colorado students joined together in Boulder to rekindle the flames of 1950's rock'n roll music. They called themselves, Flash Cadillac and the Continental Kids!
The original Flash Cadillac band, which included guitarists, Linn "Spike" Phillips III and Mick "Flash" Manresa, bassist Warren "Butch" Knight, keyboardist Kris "Angelo" Moe, and drummer Harold "Marty" Fielden - played its first gig at a frat party in Boulder on March 7, 1969. The band quickly became a hit with CU fraternity houses and the quartet began to play gigs at weekend Greek parties.
Playing renditions that echoed the famous sounds of Little Richard, Jerry Lee Lewis and other 50's musical greats, the group built a reputation that took them West to Los Angeles in 1971.
Manresa and Fielden left the band, when it relocated, and were replaced by John "Ricco" Masino, who was one of a long line of drummers that played with band, and guitarist Sam "Flash" McFadin.
Flash Cadillac's success on the West Coast came fast. Within months after their arrival, the band was invited to appear on American Bandstand. They became the first band to appear on that show without having released a record!
The following year the band cut their first major-label album, which included hot renditions of now classic tracks, "She's So Fine," "Betty Lou," and "Nothin' for Me."
Following that album - in 1973 - they fine-tuned their lineup with Dwight "Spider" Bement, who brought his avant / retro rock sax and keyboard talents to the group. But Bement soon left the band to play with another '60s act, Gary Puckett and the Union Gap.
Within four years after their move to L.A., the band, which had shortened its name to, Flash Cadillac - had cut three albums. Several of their singles registered on the national charts, including "Good Times," and" Rock & Roll" in 1974.
Two years later, the band collaborated with disc jockey Wolfman Jack to produce, "Did You Boogie (With Your Baby)."
Flash Cadillac made it to the movies in 1973, when they appeared in American Graffiti, playing, "At The Hop." That appearance can now be seen again on the 25th anniversary reissue of the film.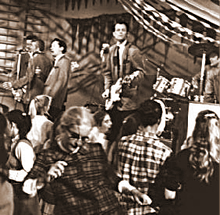 Flash Cadillac in "American Graffiti"
A Universal Pictures film.
The band hit the silver screen again five years later in the Vietnam War epic, "Apocalypse Now." And they also appeared in television - with stints on "The Tonight Show," "The Midnight Special," "In Concert," "Bandstand," and other pre-MTV rock productions.
In spite of all their Hollywood success, in 1976, the band decided to pack up and say goodbye to "tinsel town" and all its pressures and head back home to Colorado. They have remained in the Colorado Springs area since that time - still performing and thrilling audiences with their renditions of 50's rock'n roll music.
Although the Colorado music scene does not offer the excitement of the West Coast, Flash Cadillac has nevertheless continued to produce classic rock' n roll albums in their own private studio, which they sell online from their website.
Still full of creative energy, the group in 1992 tried a different tack, when they teamed up with the Colorado Springs Symphony and its visionary Music Director, Christopher Wilkins. Together they produced and released, "A Night at the Symphony," then they jointly released, "The Ghost of Christmas Past." Subsequently, the band has produced more orchestral albums, which have included stirring arrangements of Rock 'n Roll classics, along with other innovative musical arrangements.
With the exceptions of the band's leader, Warren Knight, and Dwight Bement, who has been with the band since the early 1970's, all of the original members of the band are now gone. However, Flash Cadillac has continued to reconstitute itself with new musicians and the excitement goes on when the band strikes up that stirring 50's sound on stages throughout Colorado and on national tours.
Edited by Mel Fenson from
information gathered from the web.
For more information and
Flash Cadillacs' current performance schedule,
visit their website at: