by Mel Fenson
Charles Gentry was graduated from New Mexico Military Institute in January 1956, received his commission at that time and became a 2nd Lieutenant in the U.S. Army.
Charles was a native of Roswell, New Mexico and had been a 1952 graduate of Roswell High School. He attended New Mexico Military Institute from 1952 to 1956. He was a Bronco football captain and lettered four years in football at NMMI. He was also New Mexico State Golden Gloves heavyweight champion in 1954 and had participated in track and baseball.
Following his commissioning, he reported to Fort Belvoir, Virginia, where he completed the U.S. Army Engineer Officer's Basic Course. Following that, he was assigned to Fort Hood, Texas, where he was assigned to a combat Engineer Battalion. While he was at Fort Belvoir, he was accepted into Army Aviation training, which he started in January 1957. Upon completion of the course, he received his wings as an army aviator with a fixed wing rating and was then sent to a 3-month helicopter school at Camp Walters, Texas. During the course of his career, Charles has accrued over 2700 hours of helicopter mission time - with more than 100 hours of combat flying.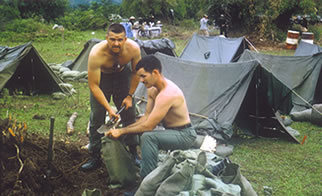 Upon arrival at their permanent base camp in the Central Highlands of Vietnam at An Khe, which was headquarters of the 1st Calvary Division, Charles and his tent mate dug dirt to put in sand bags to place around their small pup tents - to keep out of rain, varmints and stray bullets from the nearby perimeter. "We lived that way for about 3 weeks, then got larger group tents and cots."
_____________________
Charles went to Vietnam in August 1965. He was shot down December 18, 1965 and was awarded the Distinguished Flying Cross for a combat helicopter action that destroyed an enemy position and helped save the lives of many American Soldiers.
The action in which he was shot down involved a combat troop insertion to land troops in a landing zone in the central highlands of Vietnam. Charles who was then a Captain, was flying a Huey Gunship and was taking fire from ground positions around the LZ (landing zone). He said, "We were engaged in trying to eliminate the ground fire that was hindering the troop helicopters from landing in the LZ . On one of my passes, after we had knocked out a couple of machine gun emplacements, we were shot down. Some bullets hit the helicopter and knocked out our tail rotor and engine and we were forced to go down." There was a crew of four in Charles' helicopter gunship. "One crew member was killed and the other two were injured, but, I was the most badly injured - with a compression fracture of my back and some other wounds. Nothing life-threatening though. I was flying the helicopter - trying to land it without power. I put it into an auto-rotation, but then I was hit in the face with a round from the ground. It knocked me out. We went in and hit the ground with me being unconscious and unable to pull pitch - that is to stop the downward descent of the helicopter. We bounced when we hit the ground and the blades cut off the tail boom and dug into the ground. Then we came to a stop. We were in a small clearing surrounded by Vietcong, who were shooting at us. "
"When I regained consciousness after we crashed, I realized that my rescuers had hauled me out of the helicopter and put me on the ground. They had placed me in a little depression to give me some protection from the Vietcong who were firing at us from the edge of the clearing 40 or 50 yards away. I pulled my 45 caliber pistol and started firing at them, but they were out of range of my pistol."
"We were in a different clearing about a quarter of a mile from the LZ into which the troops were being inserted. There were about 20 troop-carrying helicopters involved in the troop insertion. The troops landed successfully and had established control of the LZ. The troop helicopters were called, "Slicks" because they had no guns, except door gunners, equipped only with machine guns. The escorting gunships had attached machine guns that fired coaxially, plus rockets."
There were initially eight gunships flying in Charles' group on that particular mission to cover the landing, but a couple of them were forced to return to base because of low fuel or from damage due to hits from enemy fire. "The three or four gunships still in the area, came over to give us cover with protective fire from their rockets and machine guns, to prevent the enemy from rushing us in the clearing. Even though the gunships were fewer in number than our tactics called for, all of us on the ground knew that we would have been overrun in that clearing by the Vietcong without their protection."
Charles' helicopter was flying at an altitude of between 500-700 feet when they were hit and forced to begin a descent. He was still flying for most of the way down. "It was only when we got within maybe 40 or 50 feet of the ground that I was hit. After we were hit, my co-pilot was trying to jettison the rockets and didn't notice that I was unconscious. We had 14 rockets and had only expended about half of them, so we had some live rockets and were afraid they would explode upon impact. The normal emergency procedure is to jettison the rocket pods which is what he was trying to do, but the rocket pod release had been so badly damaged that it wouldn't release. "
"A helicopter from my battalion landed and rescued us. The helicopter that rescued us was involved in our operation, but it was not a gunship. It was the command and control helicopter that carried the battalion operations officer. It was flying high above the action, watching what was going on. When they saw our predicament, they landed within a couple of minutes to rescue us.There were five people on board that helicopter - the pilot, the co-pilot, the battalion S-3 and two door gunners. There were four of us."
"When I regained consciousness, after my helicopter crew got me out of our damaged helicopter, I didn't realize what was wrong with me, but I couldn't walk - my legs wouldn't move. Our door gunner had been killed. The crew from the rescue helicopter and my crew moved me and our dead crew member into their helicopter. During that time, we were under fire from the Viet Cong coming out of the edge of the clearing. The rescue helicopter only had door gunners and personal weapons. Meanwhile, the gunships of my company had returned and were providing protective fire for us as we were being moved to the rescue helicopter and trying to get out of there. The rescue helicopter was badly overloaded - with nine people and all of its heavy radio equipment and batteries. To complicate the situation, the clearing was small and the day was hot , so it required a very skillful bit of flying to get us out of that clearing. We were unable to take off into the wind because that direction would take us right over where the Vietcong firing from, so we barely got out of there, flying through some tree tops. The helicopter took us straight away to a MASH hospital in Qui Nhon, a major port on the Vietnamese coast in the central highlands area, which was only about a 17 to 20 minute flight. Qui Nhon was the port where the ships that brought us to Vietnam had originally landed."
Charles was in the MASH Hospital for about a week, before they transported him to the Hospital at Clarke Air Force Base in the Philippines. He was there for about a week, until he was transported to William Beaumont Army Hospital in El Paso, Texas, where he completed his recovery between the 2nd of January 1966 and October 13, 1966. When he recovered from his injuries, he received a medical retirement from the army.
While in the hospital, Major Gentry was awarded the Distinguished Flying Cross for his combat helicopter action in Vietnam. The award was presented by Brigadier General Fredric J. Hughes Jr., Beaumont commanding general, at a hospital ceremony. The citation to his Distinguished Flying Cross noted, "Through his courage, superb skill and the destruction of the enemy position, Major Gentry saved the lives of many American soldiers and assured the success of of the airmobile assault." For his combat service in Vietnam from August to December,1965, Major Gentry was also awarded the Bronze Star, the Purple Heart, four Air Medals and the Army Commendation Medal.
Major Gentry had spent a total of 10 years and 10 months in the army as a career officer. He had numerous assignments in the U.S. and overseas, including assignments in Germany, Iran and Libya.
After his release from the military, Charles remained in El Paso and worked in the insurance business, until he enrolled in Law school at Texas Tech University in Lubbock in 1967, under the GI Bill. He completed Law school and received a JD degree in December 1969. He passed the bar in Texas in 1970 and began a new career in law. As a lawyer, he served two tours in Washington, D.C., on the staff of Senator Pete Domenici from New Mexico, first as Legislative Director, then as Chief of Staff until July 1997.
Following his tours in Washington D.C., he started his own firm as a government affairs consultant with an office in Arlington, Virginia. After two years there, he retired in 2000.
Major Gentry said it was one the greatest honor of his life was when he was chosen by his alma mater NMMI to be the alumnus who dedicated a Vietnam War Memorial, which now stands next to the Korean War Memorial in front of the McBride Museum on the NMMI campus.
Charles now resides in Kerrville, Texas and spends time traveling with his wife, Gerry. He has two grown children, a son who lives in San Antonio, Texas and a daughter who lives in Lubbock, Texas. He is writing about the adventures of his life for the benefit of his kids.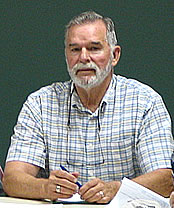 Charles Gentry