With great snowfall and plenty of sunshine, Copper Mountain - which is closer to the Denver area than Vail, and easier to get to than Breckenridge, Keystone or Winter Park - is generally considered one of the best all around resorts in Colorado by many skiers. It is a friendly ski area with only a few contentions, which include parking limitations and heavy traffic on I-70 from the Denver area. But, a ski trip from Denver, 75 miles away, takes just over 1.5 hours, so it's very convenient for day skiing.
Skiers also like Copper because it is well laid out and has a great variety of terrain. The trail systems are separated by ability levels, so beginners don't cross in front of experts. The difficulty of runs is defined by black, blue, and green stripes - to mark expert, intermediate and beginner runs. The lines are shorter than those at nearby Vail Ski area, however, like all Colorado ski areas, the slopes can get crowded on weekends. Prices to ski and vacation at Copper are generally considered reasonable.
Copper Mountain claims Colorado's first high-speed detachable six-passenger chairlift, dubbed the "Super Bee." Its new high-speed detachable quad chairlift , called "The Excelerator," provides uphill transportation for intermediate and advanced skiers.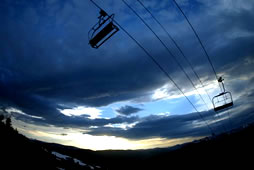 Snowboarders can also enjoy Copper's Terrain Park with 1,400 vertical feet and 10-15 hits. There are a wide range of table tops, spines, rollers, kickers and two halfpipes.
Copper is open from November to April and has an average snowfall of 280 inches. The area's elevation ranges from 12,313 ft. at the top to 9,712 ft. at the bottom of its runs. Its Vertical Drop is 2,601 ft. and its Longest Run is 2.80 miles. The area has 2,450 acres of skiable terrain and snow making equipment covers 380 acres.

Area amusements and facilities include: sleigh rides, snowmobling, ice skating, tubing hills, cross-country skiing, snowshoeing, free mountain tours and an athletic club. Ski and snowboard lessons and rentals are, of course, available.

Copper village offers many shops and restaurants and has a wide choice of accomodations - with lodging ranging from hotel rooms to 5-bedroom homes and premium condominiums, just steps away from the mountain.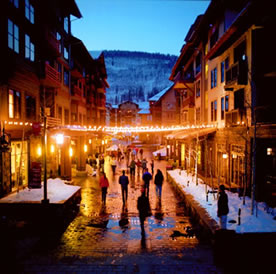 Copper Village at Night
Among Copper's eating and après ski establishments are: Endo's Adrenaline Cafe, known for sandwiches, appetizers and specialty drinks; Camp Hale Coffee, which offers bagel sandwiches, pastries and a cappuccino bar; Alexander's on the Creek - that provides fine dining and a good wine list; the Blue Moose, which serves New York style pizza, subs, salads and fries, and has a bar; Creekside Pizza and Restaurant, which specializes in home-made pizzas, hot and cold sandwiches, hearty pasta dishes, and a full BBQ menu; the Imperial Palace which specializes in Mandarin cuisine, plus Taiwanese and Szechuan dishes; the Lazy Lizard Restaurant and Cantina - a Tex-Mex restaurant with an extensive margarita selection; McGillycuddy's - a Celtic style pub, that offers wings, potato skins, burgers and sandwiches; Salsa Mountain Cantina, which serves authentic Mexican cuisine, including - homemade tamales, rellenos and other southwestern specialties; and Pravda, Copper's Russian vodka bar that is designed to recreate a contemporary atmosphere of the Cold War Soviet era. It promises intrigue and adventure for nocturnal patrons.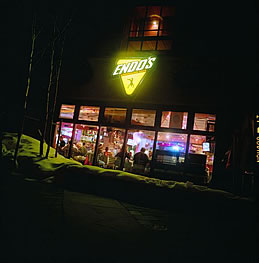 The nearby towns of Frisco - 10 minutes away and Silverthorne - 5 minutes past Frisco, also offer a variety of restaurants and bars. There is free bus service available to both towns.
So, if you are looking for an escape from the city to the high country for a day or more, Copper mountain is waiting nearby.