Lyndon Switzer was born March 19, 1902 in the small town of Kingston, Missouri, which is about 45 miles south of Kansas City.
His father, Amos R. Switzer, ran a livery stable there - with eight to ten horses. In addition, he also ran a freight line to haul supplies to Kingston from two nearby railroads - the Polo, Missouri Railroad and the Hamilton, Missouri Railroad. He also rented out horses and buggies to local town's people.
Lyndon's family then moved to Walnut, Kansas, in 1910, where his father bought a small farm. Lyndon attended a country grade there for three years. "I rode my pony back and forth to school, it was about a mile away. I kept the pony at the school in a shed during the day and I let the other kids ride it at the noontime meal. They gave me sweets and cookies in exchange, things that I didn't get at home."
In 1913, his family moved to Harrisonville, Missouri , where his father bought another farm. They lived there for eight years.
The first car Lyndon ever drove in was a 490 Chevrolet touring car, when he was about 14 or 15 years old. He said no minimum age or drivers license was required in those days. He had worked for the garage that sold them. When people bought cars, Lyndon would take them out to a hayfield on his dad's farm, which was a couple miles from town, and teach them how to drive. He said he drove four stakes into the ground to mark a garage-like space, then told his student drivers to drive in between them to practice parking the car in a garage. " I had a lot of fun teaching people how to drive. It was quite a deal to own one those 490 Chevrolets."
In 1917, Lyndon's dad sold his farm and moved the family to Boulder. They drove to Colorado in a 4-cylinder Dodge, which his dad had bought for $850, after selling the farm.
Lyndon was 16 years old then. He said it took two and one-half days to drive the dirt road from Kansas City to Denver. On the way, they stayed in Limon and awoke the next morning to about four inches of snow. The going was rough until they got to the outskirts of Denver, where the the road was improved. "Cities had begun to put in crushed rock roads leading into town from just outside the city limits - to get you to come into town."
After they moved to Boulder, Lyndon's father joined a real estate firm there.
The first car Lyndon owned was a Model-T Ford, which he and two friends stripped down to a seat and a gas tank and drove from Boulder to Yellowstone National Park in 1920. He was still in High School then. Since the car had no fenders and no windshield and since roads were dirt, the mud splashed all over them when they hit rain. He said, "We stopped in Thermopolis, Wyoming and cleaned up in the YMCA, because we were covered with mud." Although the road was muddy, they never got stuck,"...but the wheels threw mud 10 feet high." It only took them two days to get to yellowstone. Lyndon said, "We had a lot of fun on that trip."
Lyndon's first airplane ride was on an airplane built in Boulder at a shop on 28th and Spruce Street. The company that built the plane had been in the business of manufacturing chains. The airplane was a 3-seater and carried a pilot and two passengers. The company started taking passengers up for 5 minute rides that cost $5. "The plane flew out of the Boulder Airport and circled over the edge of the mountains." Lyndon was 17 years old at the time.
He got another opportunity to fly, when the Ford Motor Company, who was trying to get into the aircraft business at that time, brought a single engine plane to the Boulder Airport. It carried about 12 passengers and was taking people for rides. Lyndon's grandfather, DP Stubblefield, who had fought in the civil war and was then retired, had come out to visit Lyndon's family in the summer. He offered to take Lyndon for a ride. He didn't want to go alone, but he was willing to try the plane ride, if Lyndon would go with him. "We took off from the Boulder Airport and flew by Flagstaff." Lyndon sat across the aisle from his grandfather. When he raised up, pointed out the window and said, "There's a flag pole on Flagstaff, can you see it?" - his grandfather said, "sit down, you're going to unbalance the plane." Lyndon said, " The plane had a little wobble to it and the wind would shift it one way or another, but otherwise it was a smooth flight." His grandfather, thinking out loud, said, " I drove an ox team, a horse and buggy, and now we're flying in the air, that's quite an accomplishment for me!" His grandfather was in his eighties, at that time. He died at the age of 92.
Lyndon was graduated from the State Preparatory School in 1920, at the age of 19. The school, which no longer exists, was located at 18th & Pearl Streets in Boulder. Lyndon said, "That was before the present High School was built."
Lyndon attended a class reunion in 2002, which was held for all the school's graduating classes between the years of 1917 and 1937. It was held at the Boulder Country Club. About 100 people attended. Lyndon Switzer was the oldest person there.
When Lyndon turned 21 in 1924, he voted for the first time in a presidential election. He voted for Calvin Coolidge.
Lyndon worked as an electrician and owned his own business in Boulder for 51 years. He got into the business while he was still in High School. He had worked for and later managed an electric firm for three or four years. When the owner died in 1928, he bought the business and changed the name from Terry and Goodnow Electric to Switzer Electric. Switzer said, "The business involved wiring houses and stores - it was the beginning of the electrical wiring of houses. When I wired my first house, I ran two wires from the back porch to the front porch and used only one fuse for the whole house. There was no breaker, those came years later."
Lyndon closed his shop between 1942 and 1945 to help build Camp Hale in Pando, Colorado - in Eagle Park Valley - where the 10th Mountain Division was trained in winter warfare. The camp was built in six months and after construction was completed, Lyndon became head of the camp's electric department. He stayed there until the war ended in 1945. A month later, he reopened his shop in Boulder.
Lyndon ran his business for the next 30 years, until he retired in 1975, at which time he turned it over to his son, Don, who ran it for 7 years, then retired.
Lyndon has two sons, Don 70, who lives with him in Boulder and Jack 72, who is retired from the security business and lives in Maryland. Don is an army veteran and Jack was in the Air Force. Lyndon has three grandchildren from Don, two girls, and a boy and two girls from Jack . Don's son is a pilot for Northwest Airlines.
One of Lyndon's favorite possessions is his 2000 GMC pickup, which he drove until he was 100 years old, but finally had to stop driving because of his poor eyesight .
When asked what he thinks about today's world, he said, " It's sorta disgusting the way things are run today. They say it's progress, but to me, the election this year was a farce. I didn't even vote, but I probably should have. It just didn't interest me." He said he didn't like all the dirty politics.
About the war in Iraq, "I don't like it - it was forced on us." He hopes the president, "will get it straightened out in the next year."
He says he doesn't understand too much about today's economy, but, "It's all together different than it has been."
When asked if thinks people are as happy today as when he was young, he replied, "People today are so busy working that they don't have the time to visit." He has lived in his house for 52 years, but knows none of his neighbors anymore. "Twenty years ago, you knew all your neighbors," he said.
Asked how quality of life today compares to when he was a young man, he said, "Life in the thirties and forties was much more sociable than it is today." He fondly remembers the years of 1940 to 1945, " ... which were the Boulder's best years, as far as I am concerned. Business was good. You would go downtown on Saturday night, park on Pearl Street, do your shopping and see people you maybe only saw once a month. And maybe you'd go down and have a hamburger and stay til nine o'clock, then come home." "But," he continued, "Living is still ok today. I'm getting along fine, but 100 years is beginning to tell a story - you can't do the things you used to. It's not quite as pleasureable now as it was when my wife, Grace was living." She was 84 when she died. "When she was alive, we would visit with the neighbors and play cards." She was a year younger than Lyndon. Grace was born in Evans, Colorado. Lyndon met her in Boulder at a dance, which was held every Saturday night in the upstairs ballroom of the Citizens National Bank building. (The building, which now houses retail shops and offices, sits across the Pearl Street Mall from Starbucks, between 14th and 15th streets.)
When asked what his interests are now, he replied, "The only pleasure I have is going to the coffee shop every morning with my friend, Brownlee 'Brownie' Geyer and listening to the boys talk about everything - particularly about the automobiles today and about the antique cars that they are restoring. I go there every morning and spend an hour or more, then come home and watch TV. The Price is Right is about the only thing I look at during the daytime. I can only read the headlines in the newspaper anymore with my eyesight bad as it is. I listen to the news at night and go to bed at 8:00pm." He also likes football games and The World's Funniest Videos. "A couple hours of TV is about enough for me," he said. I get up at 7am. Some days are a pleasure to be around and other days are disgusting, when they don't go right.
"What did a cup of coffee cost when you were a kid?"
"A nickel."
"How does the weather compare today with when you were young?"
"In 40's and 50"'s, it would rain for 5 or 10 minutes a day - sorta like it does now, not a whole lot of difference."
"What do you think about new cars today?"
"The new cars today have got everything you can imagine or want compared to years back, when all you had was a speedometer and a hand-wiper to clean the windshield. There's a big advancement in the cars today. Today, cars are all automatic - with push-buttons for everything. Cars today are wonderful. You get temperature by looking up on the mirror to see it and the heating system is great. You just turn the button to keep warm on cool days and cool on warm days. And, as far as airplanes go, my grandson can just sit there and push buttons to fly the plane."
"How does food today compare to eating out when you were young?"
"Food today - you can get anything you want. It's 100 percent better than years back. You didn't eat out a whole lot 50 to 75 years ago. On Thanksgiving, everyone came to one house and had turkey and duck, whereas today, you can go out to a dozen places to get a thanksgiving dinner and it's just as good, I believe, although home-cooked food was was hard to beat."
"I remember the first hamburger I bought was ten cents. I got it at a 5-stool counter, at Blackies Hamburgers. It was in a little store on Broadway and Walnut . Everything has been changed there now. Bank One is there now. Hamburgers have improved quite a bit - with all the trimmings you get today."
"People eat out now more than they did in the thirties. There was a pig parlor that went in at Broadway and Arapahoe that was quite popular. They had barbeque pig. And across the street was, The Barrel, that also served hamburgers and drinks. It was right by the bridge at Boulder Creek, (near where Mustard's is now). It was called True's Barrel."
"What advice would you offer to young people today?"
"They are going to have to have a better education today than 50 years ago - to make a living. Living today is changed. The computer has taken over now. It seems like everything has to be computerized to get it straightened out."
"Today, you can hear the elections results on TV within a few hours after voting is over. Back in the 30's, you waited til the next day or two, until it came out in the newspapers, before you could find out who was elected president. Television is quite a deal today compared to radio. And radio did not provide as complete information as TV does today. If something happens in New York today, we see it right here right away."
Writer's Note: Lyndon Switzer is a Grand Old Man and a pleasure to know. His friends all admire his quick wit and sense of humor. When he and his friend Brownie come into the coffee shop...the fun begins!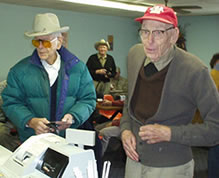 Lyndon Switzer and Brownlee Guyer
at the Daylight Donut shop in Boulder.