Although he holds a BA Degree with majors in Art, Philosophy, English Language and Literature, plus an MA Degree in Social Foundations of Education, Boulder artist Ron Argenta has also always been drawn to artistic self-expression. While attending college, "...with the intention of becoming a high school English or History teacher," he was introduced to ceramics. That influence changed his direction to art and he enrolled in graduate classes in ceramics. He built his first kiln in 1972 and began producing ceramic art.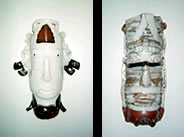 In 1990 he stopped making ceramics and turned to painting. His designs evolved from ceramics into painting two-dimensional formats.
"My explorations and studies of clay led me through the vast richness of clay history, utilitarian and non, but I think the most influential aspect was the symbolism, iconography, and composition of very early multi-cultural designs," he reflected. "I was fascinated by the overlay of symbology and the migration of signs and symbols. They seemed to travel great distances, not only spatially, but through time."
Symbols of all cultures became a venue for him to try to find his own "language" in the contemporary world. He states that, "I feel I have found a way to express events, perceptions, interpretations, people and places of my personal world."
Argenta's work has been influenced by Joseph Campbell's writings on Myth, Carl Jung's interpretations of Anima/Animus
Tantrism, Ukio E Hokusai, Aubrey Beardsley, Modigliani, Goddess Theology and Alan Watts.
As involved as he is in painting, he says he still misses the daily routine of, " ...of having my fingers in clay, smelling the kiln and seeing the white heat. " He has consoled himself with the thought that, "... within the language of my painting designs, there still is the touch of the primordial clay and the fire of something everyone can relate to."